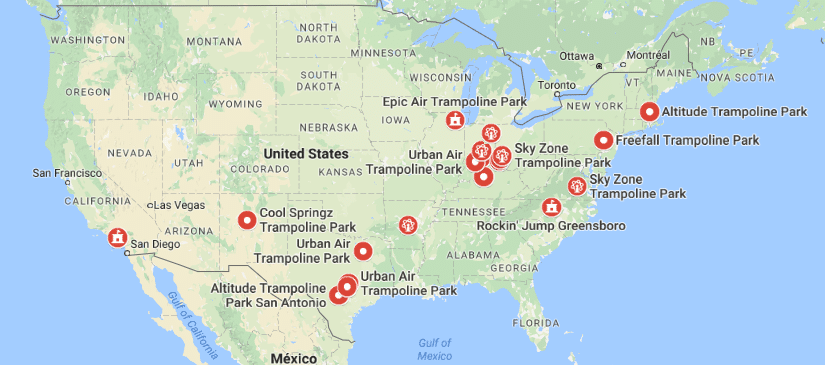 Trampoline Park Map
Parks and arenas are trendy, yet have been around for years.  They exist all over the USA.  The map is not all inclusive and that would take me months of research; however, you can search your state and local area to see what's available for you, your kids, and friends.
Some places have combination arenas for football, basketball, hockey, and gymnastics, played on top of the trampolines.  They are sized for the other sports and people seem to enjoy the variety.  These were built to create adventure with joy and excitement to inspire sportsmanship, health and well-being, exercise, and fitness.
Signed Liability Waivers
We know that trampoline courts have protective padding.  Most courts or arenas provide an educational video and wall trampolines at the beginning of each gathering of people and kids.  At this time, inexperienced players or jumpers of all ages, size, and shapes, have an indoctrination period for awareness knowing the rules and regulations.
All jumpers under 18 years old must have a signed Liability Waiver by their parent(s) or legal guardian(s) stating they have permission and approval to jump.
A signed Liability Waiver is usually good for one year.
Keep this in mind if you plan to have birthday parties and other events jumping the trampoline or planning games. The guests of your kids under 18 also must have a signed Liability Waiver.
Trampoline parks, courts, or arenas are not 100 percent safe.
About 1 percent of the visitors to these areas have suffered from an injury.
With the parks becoming safer, injury rates have dropped to 0.2 percent.
Almost all accidents occur when jumpers try to exceed their abilities not realizing their limitations.
Bounce!
No one will be motionlessness, quiet, calm, and tranquil at one of these parks or courts.  As they jump and fly through the air, be sure the jumpers are in the designated area for his or her abilities.  If a novice, be sure to take that into consideration to avoid injuries.  Never go beyond an established skill level until that is reached.
Young tots, early teens, older teens, and adults, to include fitness devotees must always do their initial muscle warm up exercise first.  After that's done, blow your own horn, and fly your own kite, so-to-speak!  In other words, show off a little, but with care and concern for safety.  Some arenas have climbing walls where some spider men can really brag.  There might even be a Slam Dunk to dodge balls with friends.  Other possibilities might be an included format for those who like adrenaline rushes is to jump from a raised platform to catch a trapeze suspended in mid-air.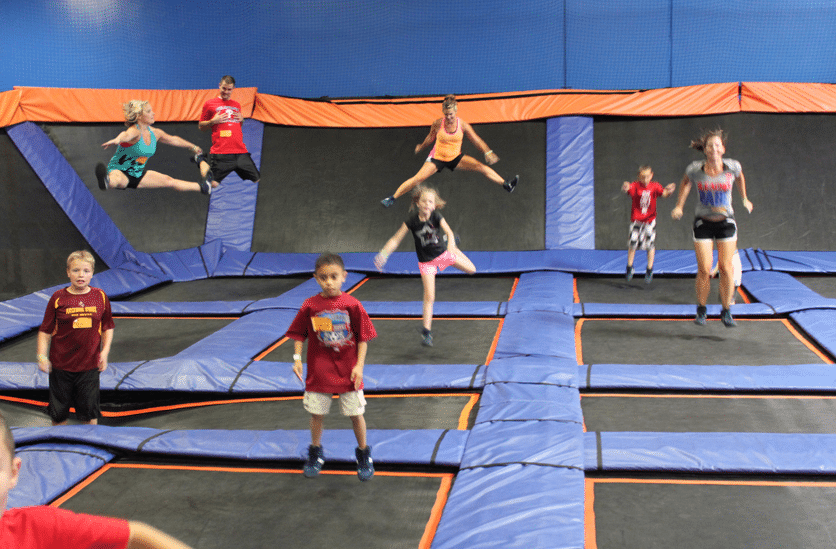 Money Makes the Trampoline Jump Up and Down
You've heard that money makes the world go 'round, right?  It also drives the trampoline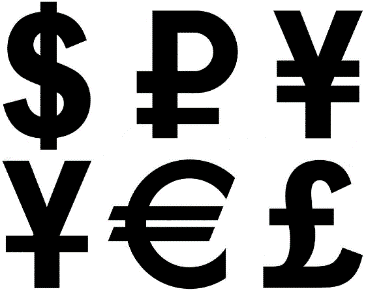 parks in the USA, Canada, and globally.  Many more open annually and most are franchises.
You get in by paying an hourly rate making these parks and arenas very lucrative.  They spin money like writers spin words.  What's more, it's cheaper to keep the kids entertained at these places for a few hours rather than an amusement park or circus that seems lately to have failing rides injuring and killing youngsters.  Even state fairs are not very safe anymore.  The usual price is about $14 an hour.
The places are everywhere and offer parties and gatherings for kids with loads of options, all at a price of course, for a special memory day for everyone.
Are These Places Safe?
All parents are by nature concerned about safety for their kids.  There's no way to really ascertain if the trampoline parks are safe or not.  It's p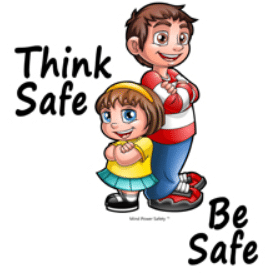 robably arguable, but overall, these parks seem to take safety quite seriously; after all, they are liable for law suits and do not want their day in court paying out millions of dollars.
Injuries can happen in your own backyard.  Injuries can happen with any type of physical activity.  With trampolines, some injuries can be serious.  It's rare that people have broken bones or other significant injuries.  Your risk is at a minimum when everyone adheres to the rules and respects trainers' and coaches' judgement calls—even if they seem to be wrong to the jumper!
There are human monitors to watch and observe jumpers the same as life guards do at the swimming pool.  Know your limitations and do not jump too high or do flips and somersaults with no training.  The jumper must be in charge of self.  He or she is responsible and accountable for the actions undertaken.  It is not the park's fault when you are careless.
Go to The International Association of Trampoline (IATP) parks here where you can find a trampoline park by country, city, and state, and checkout upcoming events and the latest headlines.  You can become a member for more benefits.
Final Thoughts
Find a park with best practices standards and be up and away having fun on the trampoline.  Some trampoline parks that are great are Jump America, SkyZone, Big Air, Flight Trampoline Park, House of Air, Urban Air Trampoline Park, Epic Air, and about 50 more.  Be safe and Happy Jumping!
My name is Larry Dunn from Dallas Texas and I have a deep passion and love for the trampoline.
With many years of experience in the field of healthcare service, I have decided to start his own website which is about a trampoline.
With this website, I will share his experiences and expertise advices on different factors to consider when deciding whether or not a trampoline is safe for you and your family.