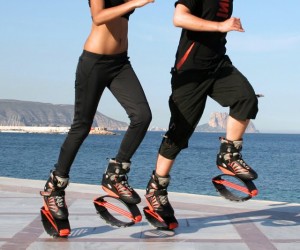 It is a successful achievement of professionals to invent jump boots and jump shoes as same as making bounces on the trampoline. This invention helps jumpers get more fun and greater bounces. The model has been changed over time to keep up with higher needs and demands of users. Coming with the metal frame, it enhances the bounce efficiency in a comprehensive way.
Jump To> Trampoline Jump Shoe Reviews
The History of Jump Boots and Jump Shoes
Having invented in 1990s by Denis Naville, jump boots are popularly used in many stores and home uses. They are different from common boots by the additional equipment of some safety accessories. It comes with the basic purpose of protecting athletes who are suffered from tight muscles and leg injuries. By wearing jump boots, it contributes to burn calories and reduces high impacts on joints and legs. Over all, jump boots and shoes are designed to be more attractive and to keep your feet safe from sharp pebbles.
Why We Should Use Jump Boots and Jump Shoes?
In comparison with jogging or walking, wearing jump boots is an efficient way to reduce problems on user backs and legs. This great function results from less influence on joints. As a result, it encourages you to get faster and better exercise efficiency.
At the first time, you will find it difficult to be familiar with using the jump boots. However, it is nice later. There is a single spring on the bottom of the boots to create bounces for each time of jumping. Most of users feel happy to enjoy the realistic sensation of running on the trampoline. To get familiar with wearing the boots, you had better jump and walk around to ensure that your feet are ready to jog, even on hard surface.
Many people wonder whether the jump boots and shoes are safe or not. It is evidence that using this equipment is a safe way to enhance your general health. The model is suitable for customers at all ages. However, you should bare into your mind several important factors below. The tool is not exposed for people with balance and serious health problems, or women on pregnancy.
If you are on the market and seek for effective jump boots and shoes, let's have a close look at top 5 best models below.
1
Kangoo Jumps XR3 Black and Orange Size
The most out-standing recommendation here is Kangoo Jumps XR3. Wow, it comes with nice appearance to be suitable for both men and women. Using this type of boots brings the plenty of benefits to users. For instance, it contributes to reduce joint and back pains in an effective way. The tool is also very awesome for special ability to improve the abundant supplication of oxygen. It allows people under 200 pounds of weight capacity. A big plus of the jump boot is its affordable replacement parts.
2
Poweriser 7090A Poweriser Jumping Stilt
It is a fantastic gift for your children to improve their general health. It withstands users from 158 to 198 pounds in weight. You could be rest assured to enjoy its sturdy construction from high-end materials and thick aluminum frame. In case you need repairing your product, let's get benefit from 12 months of warranty and 6 months on spring. By wearing this smart boot, it could reach remarkable speed of 20 mph and 7 feet high.
3
Kangoo Jumps Power Shoe (Kids)
Your kids will actually love Kangoo Jumps boots for many reasons. While wearing the boots, they could effectively lose weight by burning a lot of calories. In comparison with jumping on a trampoline, using jump boots is much funnier. Get it now and enjoy all of its fantastic features.
4
Air Kicks Anti-Gravity Running Boots
The first priority of this boot type is its surprising comfort for wearing. The tool offers a variety of sizes to different customer ages, including youth, women and men. Coming with the user weight limit from 99 and 176 pounds, it is completely suitable for over 8 year old kids. The boot works based on JUMPING JAX T-Spring technology to reduce high impact on back, knees and ankles. Don't worry if you have changes in body weight, available T-Springs are sold separately to meet your demands.
5
KJ-XR3 Black & Orange XLarge
The fabulous features of this invention is low impact and up to 80% of shock reduction. For people who are attempting to lose weight, Kangoo Jumps boots are the best option. It is obvious that regularly wearing jump boots is an ideal method to burn 2x the amount of calories in surprisingly quick time. The boot is wonderful for all customer genders, including both men and women to get benefit in low abs.
My name is Larry Dunn from Dallas Texas and I have a deep passion and love for the trampoline.
With many years of experience in the field of healthcare service, I have decided to start his own website which is about a trampoline.
With this website, I will share his experiences and expertise advices on different factors to consider when deciding whether or not a trampoline is safe for you and your family.