Diggin Active Trampoline for Kids
Trampoline is a great option for fun and entertainment. It is designed to be suitable with different types of customers, including teenagers, adults and seniors. Especially, there are numerous trampoline models for kids that attract most of customers' eyes. By purchasing this special type of trampoline, parents not only could protect their children from adventurous outdoor activities, but also bring the happiness and health benefits to them at the weekend. When it comes to purchasing a trampoline for kids, safety should be in the first considerations. There are a great number of reliable trampolines available on the market. It requires you to be a smart purchaser in deciding the best brand to make right investment. This article will focus on introducing one of the most well-known brands during current years. This is the Kid Active Trampoline by Diggin. One fact is that Diggin attempts to deliver the perfect trampolines in both design and features. Its products not only come with colorful design, but also durable materials for long-lasting usability. Enjoy memorable moments when jumping on the trampoline surface owing to the great combination between cool tricks and funny sounds. Therefore, discovering both advantages and disadvantages of Diggin Active Trampoline is an important task. This helps bring a comprehensive view to decide whether this model is suitable for you or not.
Advantages
The most impressive feature when looking at this type of trampoline is its colorful design to get most of kids' attention at the first glance. Coming with triangle shape, it provides suitable jumping space for children at all ages above 3 years old.
Besides, Active Trampoline for Kids by Diggin is an ideal option for indoor demand. It takes small space to store and brings the great ease of carrying from rooms over rooms. The tool equips top high-end features that keep up with the needs and ages of kids. For instance, two handles effectively enhance the safety of using the trampoline. Kids can hold stable handlebars while bouncing on the trampoline pad.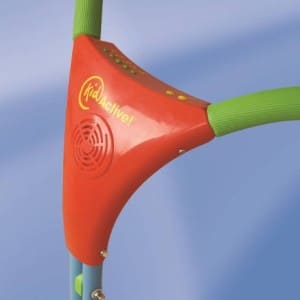 A big plus of using this modern trampoline is its special ability to combine exercises and sounds together. When your kids bounce on this trampoline surface, they have chance to improve their skills thanks to a five-in-one multi-game sound system. They are so attractive and various, including animal sounds, funny sounds or counting sounds.
In addition, safety is a positive feature of using the trampoline. By the replacement of bungee cords, it reduces the risks of sticking small fingers into traditional trampolines with springs.
Disadvantages
Everything will have two sides, including positive and negative aspects. Therefore, it is right for Active Trampoline for Kids by Diggin. Its assembling process is quite complicated and takes time to finish. Besides, not all of parents like the music when jumping on this trampoline or regular battery replacement.
In general, purchasing Diggin Active Trampoline for Kids is a right investment for long-term goals. The model is highly rated by its durability, safety and eye-catching appearance. It is efficiently used for both indoor and outdoor activities. Using this type of trampoline brings an effective way to improve the mental and physical health of your children. Get it now and enjoy all of its fabulous features!
My name is Larry Dunn from Dallas Texas and I have a deep passion and love for the trampoline.
With many years of experience in the field of healthcare service, I have decided to start his own website which is about a trampoline.
With this website, I will share his experiences and expertise advices on different factors to consider when deciding whether or not a trampoline is safe for you and your family.